Home>
Save the date April 17-19 2020!
Online registration starts January 1, 2020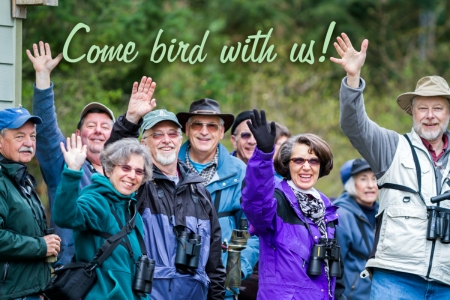 This festival provides participants the opportunity to view a wide variety of birds normally seen on the Olympic Peninsula. Field trips are planned for Sequim Bay, Port Angeles Harbor, Ediz Hook, Dungeness Spit, the Elwha River and at Neah Bay, as well as trips through wooded areas to view songbirds and locate owls in the evening. Boat trips to Protection Island are also planned. The North Olympic Peninsula is widely known as a great place for bird watching. The day of the Olympic BirdFest is timed to overlap wintering birds and the beginning of spring migration.
In addition to the field trips, birders may participate in presentations, workshops and a banquet. A tour explaining the Jamestown S'Klallam tribal totem poles at the Tribal Center and the Seven Cedars Casino will also be offered.
Guest Speaker: John Marzluff
Topic: "Welcome to Subirdia"
John Marzluff is James W. Ridgeway Professor of Wildlife Science at the University of Washington. His graduate (Northern Arizona University) and initial post-doctoral (University of Vermont) research focused on the social behavior and ecology of jays and ravens. He continues this theme investigating the intriguing behavior of crows, ravens, and jays. His current research focuses on the effects of urbanization on songbirds in the Seattle area. He teaches Ornithology, Governance and Conservation of Rare Species, Field Research in Yellowstone, and Natural and Cultural History of Costa Rica.
Professor Marzluff has written five books and edited several others. His most recent book Welcome to Subirdia (2014 Yale) discovers that moderately settled lands host a splendid array of biological diversity and suggests ways in which people can steward these riches to benefit birds and themselves.
Dr. Marzluff has mentored over 40 graduate students and authored over 140 scientific papers on various aspects of bird behavior and wildlife management. He is currently leader of the U.S. Fish and Wildlife Service's Recovery Team for the critically endangered Mariana Crow, a former member of the Washington Biodiversity Council, and a Fellow of the American Ornithologist's Union.
FESTIVAL EVENTS:
Neah Bay Birding Trip